Building and Development
Classrooms to Tertianship
The former stable buildings of Baymount Castle had been converted for use as classrooms during the time of the preparatory school  and use for retreatant accommodation before the building of the current retreat house.  When the new retreat housebuilding made them available, the Irish Jesuit Novitiate  transferred to them from Emo Court in County Laois in 1969. The stable and walled garden area of Baymount Castle were gradually replaced, initially with pre-fabs. The novitiate was closed in 1991, the novices living in Ballymun until a joint British-Irish novitiate was established in Birmingham UK.
In 1977, part of the property (now Park Lawn) was sold and new novitiate buildings provided for the needs of the novitiate until 1991. This site was then used as a centre of faith and prayer for young adults until 2006, when it was refurbished and enlarged to become the European English-speaking Tertianship where some twelve Jesuits from around the world spend a year of formation each year. The building and renovation were carried out under the direction of Martin Donnelly of RKD.
1960's Retreat House
Once the retreat house was established, consideration was given to development of the site. Manresa was considered a possible location for a Tertianship building or for a new philosophate.  when it was decided to build a retreat house, and the current block was built. The four-storey building and it's adjacent circular chapel in the International Modern Style were designed by Andrew Devane of Robinson Keefe and Devane Architects.
The 1969 Jesuit Year Book recorded that Fr Donal Mulcahy was Superior and Director of Retreats and noted that, "Since 1949 enclosed retreats are conducted at Manresa House, at weekends for men and at mid-week for students and youth. In the present modern Retreat House, completed in September 1967, with 42 single rooms and circular liturgical chapel, weekend retreats are held from Saturday evening to Monday morning, or from Friday evening to Sunday morning; and mid-week retreats usually from Tuesday to Friday or for any period requested."
Timeline
The Jesuits have been the longest occupants of the Dollymount site and have adapted it over the years.
1967: Retreat House and Chapel opened
1973: Ignatian corridor built and opened
1977: New Novitiate building
1984: Scullery added to Dining Room
1992: Evie Hone Chapel and new reception built
1997: Ignatian Library and four rooms added to the Ignatian Corridor
2002: Retreat House rooms made en-suite and lift added
2012: Montserrat Room extended
2022
Manresa received permission from Dublin City Council in February 2022 to proceed with building and renovation. The extensive work was planned to offer better facilities to retreatants and to improve the conditions for staff. This work scope  includes:
a new single storey, flat-roofed building to provide for new reception, dining rooms and kitchen
preservation of the castle - a protected structure - by external and internal attention to roof, walls and windows
refurbishment of the current Tertianship to replace the castle as the residence for the Jesuit community
replacement of all windows in the Retreat House block and refurbishment of Retreat House rooms
provision of car and cycle parking spaces
The intended duration of work is about 18 months, to conclude by Autumn 2023.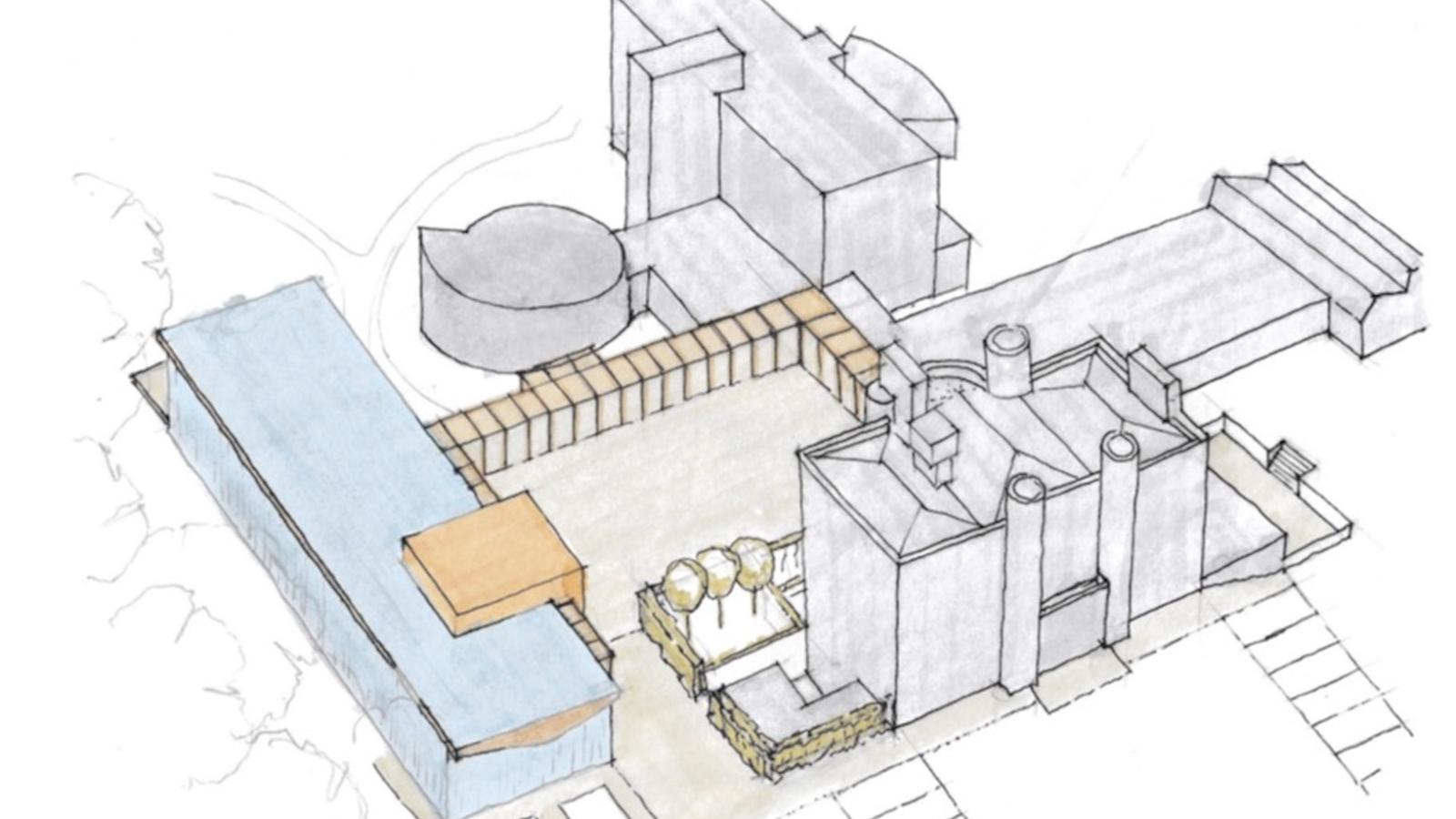 2022 - new dining room/kitchen/reception block (blue)